Increased use of cryptography on the Web resonates with the fact that Google has issued security alerts to all websites without SSL certificates, and is considered a priority on search engines. That creates the effect of promoting webmasters to apply because they do not want to fall behind competitors in the market. Especially with ecommerce websites, customers are wary of making unencrypted online transactions.
The choice of digital certificates becomes extremely important, which will be better for your website, should use the fee or just use the free certificates from the provider.
So, What is the Difference Between Free SSL Certificate & Paid SSL Certificate?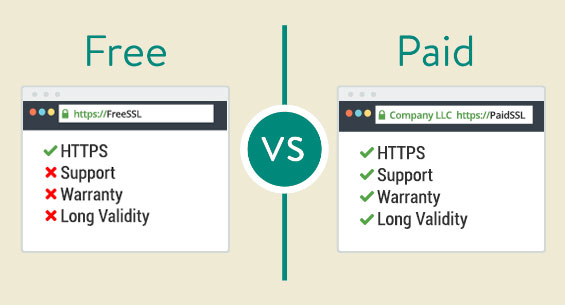 Free SSL
Numerical providers such as Let's Encrypt offer free DV certification, which is built into popular control panels such as cPanel, DirectAdmin, etc. These easy distributions bring some security issues. of the Internet. This provider manages the domain ownership verification process, which allows you to authenticate all subdomains by your primary domain.
Easy issuance This certificate is completely different from a premium certificate, where vendors only issue certificates when they have full business information, as well as a level of authenticity over time.
Paid SSL
SSL paid for the stability of the website, presence on any browser, showing the scale and professional reliability to customers and partners.
There are also many benefits to the website such as:
– Encrypt data on the Internet.
– Increase the reliability of the website.
– Supported initial settings.
– Get technical support during use.
– Be paid at least $10,000 when data is stolen.
– Website can not be forged.
– Business information is transparent.
– Do not be interrupted during use if the major website organizations have changed the trust of the certificate.
Using SSL from pay-providers will compensate for at least $10,000 when any data is encrypted for a certain reason by code decryption and information leakage.
The importance of SSL?
An SSL Certificate (SSL certificate) issued by the certification authority, will confirm the presence of the website, the level of credibility and security.