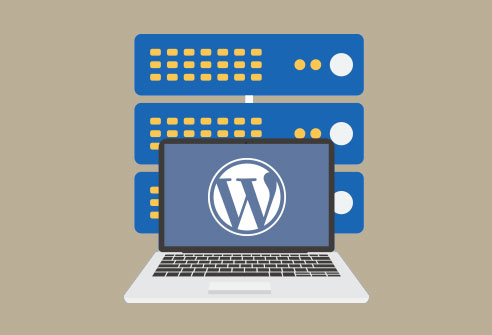 Hosting has many meanings. Among them, its technological meaning is server. Wordperss hosting has a very powerful configuration and optimization settings for WordPress. It is located in a specific location for the Datacenter and connects via high-speed Internet to distribute data to the internet environment by allowing users to upload data or send data. Then you need to buy WordPress Hosting to catch that works.
For WordPress, their source code uses PHP server-side language (meaning it is translated and processed by server environment) and MySQL database management system, so you need a hosting to be supported in PHP and MySQL to handle queries in the database.
If you use WordPress to start your own websites or blogs, you must have a server to start putting your site on the Internet.
Here are the general considerations when choosing the WordPress hosting services
1. Do not buy WordPress hosting from domain name providers
The biggest and most famous domain name providers in the world such as Godaddy, Namecheap, Network Solutions…all have wordpress hosting services but poor quality. Most of them do not have their own data center (except 1and1) and create this service to earn extra money. They only focus on domain name registration services.
2. Avoid buying and selling on Facebook
In some groups, you may find that many people advertise for cheap hosting services with very attractive services such as unlimited bandwidth, high speed, three month use, lifetime support (But most of these services are low quality or new service that noone checks).
All reputable providers can create the best communication campaigns, so they do not have to waste time on small ads.
3. Do not buy from an individual
Hosting service is a sensitive service because it affects your business security and your information. You should provide your information to large companies because you may need a lot of support.
4. Select the appropriate data center
Currently, there are many WordPress hosting providers supporting you in choosing the data center when signing up. If you know how to choose data center, your computer speed will be as fast as you want without using the data center in the country.
And if you are only allowed to use US services, you should prioritize in the following order:
Los Angeles, California.
Seattle, Washington.
San Jose, California.
Santa Clara, California.
Houston, Texas.
Dallas, Texas.
Atlanta, Georgia.
Another consideration is when you choose a server in the US; They forbid you to upload pirated digital publications such as software, music, movies, or otherwise.
If you are in Europe, you can choose:
Russia
Turkey
Poland.
Netherlands.
Germany.
Sweden.
The issue of copyright in Europe is more relaxed; This is the reason why the service in Europe, including the Wikileaks website, LiveLeak is all in Europe.
5. Ask before buying WordPress hosting
Before you decide to buy a product, you should look for information from the internet that has been rated by the previous user so as not to waste time.
There is a well-known foreign forum discussing hosting topics, known as Forum Web Hosting. You can visit this forum to search for information.
6. Find out the refund policy
Almost all Shared Host services, Managed Hosting services have a return policy of at least 30 days, 7 days with VPS and almost no return on Dedicated Server and Cloud Hosting.
So, if you intend to buy a host from any vendor, you should search the query "search provider name + refund" in the search box.
If you are unhappy with the service or do not need it anymore, you will send the amount of money you need to be refunded. Vendors will close your service and refund the money to you.
7. Buy WordPress hosting with Linux or Windows OS
WordPress only works well on operating systems that use the Linux kernel. When choosing a server to run WordPress platform, you need to choose Linux or Windows Hosting. Both have the same structure, but their operating system is different.
WordPress works best on operating systems that use the Linux kernel, not Windows. Windows-based servers still run WordPress, but they are easy to come by and at low levels of WordPress
If you use the Host Shared service, 100% of their host packages use the Linux kernel operating system.
When you purchase a VPS or dedicated server, the vendor will ask you for the operating system of your choice. They do not write Linux or Windows, they write:
CentOS (Linux)
Ubuntu (Linux)
Debian (Linux)
Fedora (Linux)
Windows server
Like CentOS, Ubuntu…all are the name of the operating system. Most people now use CentOS, so when you rent a host, you should choose CentOS for sure. In a nutshell, when you buy WordPress Hosting, let choose Linux.
Hopefully this knowledge becomes useful for you and makes you better understand about WordPress Hosting. If you find any information missing or wrong, do not hesitate to comment below and I will change because knowledge is infinite.