Discount Code

JustVPS30
Why Choosing Us?

Check out the new JustVPS services and rates. Every day we become better and more reliable. We guarantee fault tolerance and the highest speed of our servers, we use high-quality SSD disks.

Connecting a server is simple: go to the website

www.justvps.com

- register - choose the right server - pay.
UlTRA VPS
________________
HOURLY VPS
_______________
DEDICATED SERVER
Input the "JustVPS30" promo code and get a 30% discount on any configuration!
JustVPS
- the recognized leader of a hosting of virtual dedicated servers. The project exists since 2016 and during this time managed to win trust of clients.
We specialize in providing a qualitative hosting on virtual VDS or VPS dedicated servers at low price. Our services are presented only on the basis of virtual servers that allows us to focus on quality of providing this type of a hosting as much as possible.
We set before ourselves a specific goal– to do something one, but to do it qualitatively. We provide only VDS/VPS and really we do it at very good level.
Dedicated server
is a separate physical medium, and all of its resources are at the user's disposal. It's just a basic dedicated server meaning. Typically, a dedicated server hosting is used to run services with a high consumption of resources (for example, a game server) or some websites with a large number of visits (a large online store or information resource). For security purposes for large-scale projects, the database server and the web server are located on different machines - if one of the servers is unavailable or hacked, the other service will not be affected and will continue to work.
Advantages of Dedicated Server
the ability to select a configuration of suitable power;
use of all server resources;
complete freedom of action due to access at the administrator level;
lack of "neighbors" on the server.
Disadvantages
high price (but you can always find some cheap dedicated server);
the need for self-administration of the server, which requires special knowledge and skills or payment for administrator services.
Why do you need to buy dedicated server?
root access (administrator level access) to the server;
power on, shutdown, server reboot;
reinstalling the operating system;
operating system management (updating, connecting modules);
installation and configuration of software;
work with the file system (upload files to the server, create, modify, delete);
changing the configuration (hardware characteristics) of the server.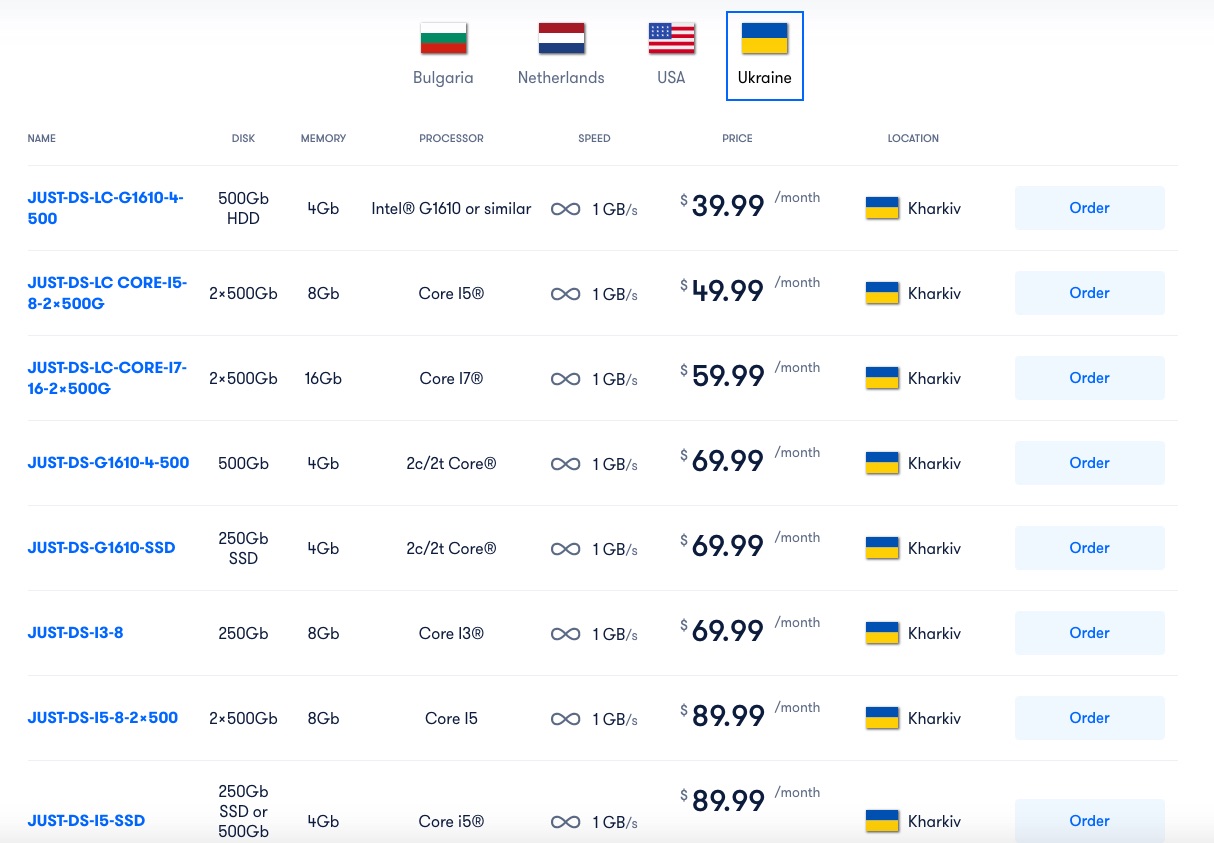 [email protected]
. Our 24/7 support will always answer you and help.
Also write to us on
Facebook
and
Telegram
Payment Methods

Visa, MasterCard, PayPal, Qiwi, WebMoney, YandexMoney
Available Locations

Netherlands; United Kingdom; Germany; Australia; Canada; France; Japan; Singapore; Bulgaria; Czech; Latvia; Netherlands; Poland; USA; Ukraine