Discount Code

JustVPS30
Why Choosing Us?

Check out the new JustVPS services and rates. Every day we become better and more reliable. We guarantee fault tolerance and the highest speed of our servers, we use high-quality SSD disks.

Connecting a server is simple: go to the website

www.justvps.com

- register - choose the right server - pay.
___________________
UlTRA VPS
________________
HOURLY VPS
_______________
DEDICATED SERVER
Drive the "JustVPS30" promo code and get a 30% discount on any configuration!

We are in a hurry to please you with a new unique offer for renting a VPS server in Singapore locations. We offer tariffs at super low prices from $6.99 and this does not include a 30% discount by the "JUSTVPS30" promotional code, the total cost of which will be $4.90!!! Go to our
website
and connect the most beneficial server!
JustVPS
- the recognized leader of a hosting of virtual dedicated servers. The project exists since 2016 and during this time managed to win trust of clients.
We specialize in providing a qualitative hosting on virtual VDS or VPS dedicated servers at low price. Our services are presented only on the basis of virtual servers that allows us to focus on quality of providing this type of a hosting as much as possible.
We set before ourselves a specific goal– to do something one, but to do it qualitatively. We provide only VDS/VPS and really we do it at very good level.

VPS server
What is the advantage of VPS compared to conventional hosting? First of all, it is a guarantee of resources. It is about creating several virtual servers based on one physical. Obviously, these resources are distributed between a limited number of clients, and therefore the speed and reliability of the IPN is much higher than that of traditional shared hosting. In addition, VPS can use more resources if at any given time they are not used by other VPS.
VPS Benefits
It should be noted that the quality of the dedicated VPS server from the JustVPS host is hardly inferior to the dedicated servers. In addition, the UPU has other advantages:
The best price. Premium VPS from JustVPS costs a little more than regular hosting;
Root access to directories and resources;
High speed;
Making changes to system settings based on your needs;
Safety guarantee;
Technical support 24/7;
A wide selection of software for the ultra VPS server;
Large selection of tariff plans;
Many convenient ways to pay for a virtual VPS server;
Reasonable prices for other types of services.
Hourly VPS hosting
is used all over the world. And not only by small companies but also by large corporations. VPS hourly server is reliable and versatile.
Advantages of the hourly server
1. High level of fault tolerance. We use a cluster of several physical servers to build storage. This eliminates outages due to the failure of one server. Thus, you can linearly scale the amount of disk space and performance. Also, such storages make it possible to create multi-level data storage when frequently used data is transferred to faster disk arrays.
If the server crashes, then in the case of a regular IPN, it will take hours to restore it from the backup, and the other hardware will be used for the hourly storage server without loss of recovery time. Thus, the probability of the hourly server unavailability due to a hardware failure is minimized.
2. Flexibility. You can independently increase or decrease the resources of the IPN at any time, and there is no need to contact the support service to increase the number of processors, channel width, RAM size. You can select a tariff plan, create an IPN, and after 5 minutes change its technical characteristics.
3. Freedom of action. When ordering a VPS hourly, you buy the so-called units, which you can use to rent resources. You can use these resources the way you want it. You can create several virtual private servers, organize virtual hosting, make one or more virtual data centers, organize your own local network, etc. So you can use the resources to do what you want.
4. The speed of creating a VPS. You create your own products and it will not take much time. For example, there is no traditional "product support service". We, as support staff, fall out of this chain. To create your product, you need to make a couple of clicks, wait up to 5 minutes and you can already get to work. You no longer need to communicate with support representatives and find out information about when your virtual hourly server is activated. You can do everything yourself, and if you have any difficulties or questions, then we will be happy to help you.
Dedicated server
is a separate physical medium, and all of its resources are at the user's disposal. It's just a basic dedicated server meaning. Typically, a dedicated server hosting is used to run services with a high consumption of resources (for example, a game server) or some websites with a large number of visits (a large online store or information resource). For security purposes for large-scale projects, the database server and the web server are located on different machines - if one of the servers is unavailable or hacked, the other service will not be affected and will continue to work.
Advantages of Dedicated Server
the ability to select a configuration of suitable power;
use of all server resources;
complete freedom of action due to access at the administrator level;
lack of "neighbors" on the server.
Disadvantages
high price (but you can always find some cheap dedicated server);
the need for self-administration of the server, which requires special knowledge and skills or payment for administrator services.
Why do you need to buy dedicated server?
root access (administrator level access) to the server;
power on, shutdown, server reboot;
reinstalling the operating system;
operating system management (updating, connecting modules);
installation and configuration of software;
work with the file system (upload files to the server, create, modify, delete);
changing the configuration (hardware characteristics) of the server.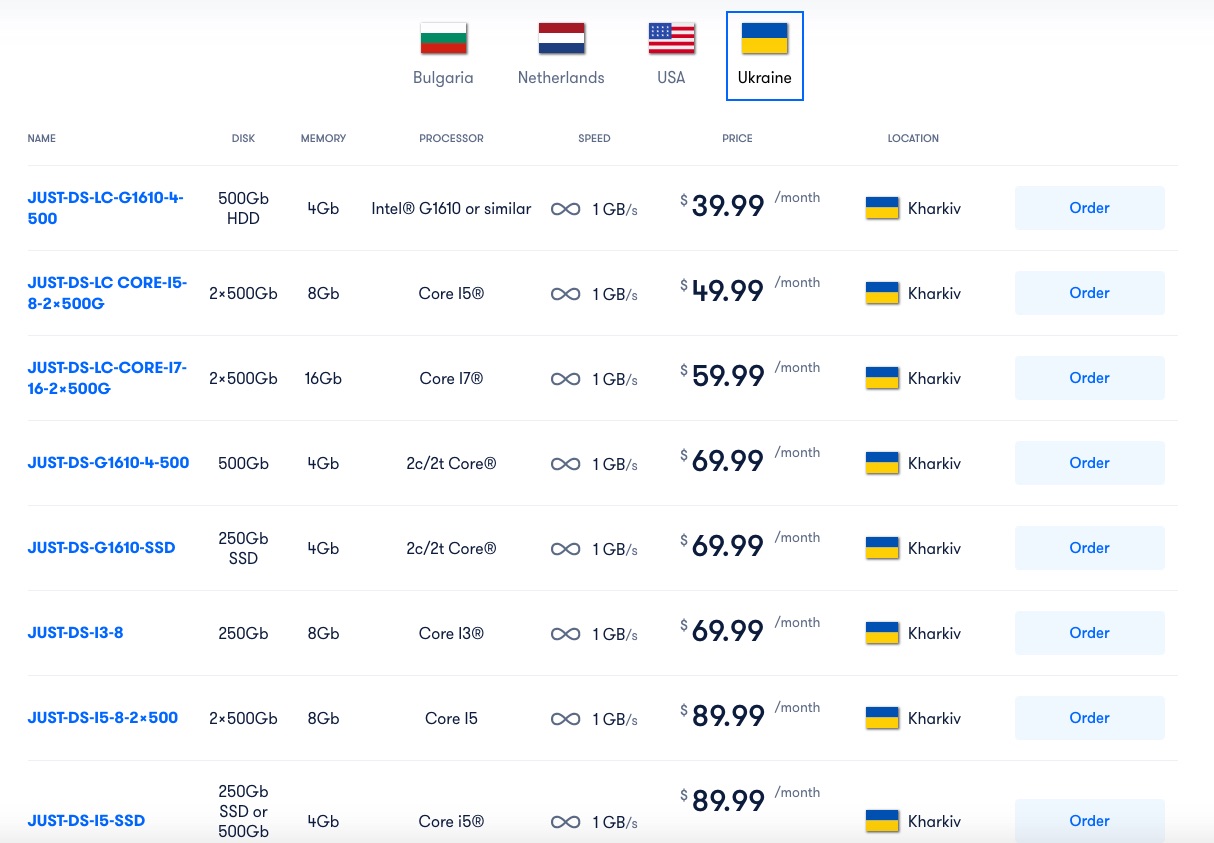 [email protected]
. Our 24/7 support will always answer you and help.
Also write to us on
Facebook
and
Telegram
Payment Methods

Visa, MasterCard, PayPal, Qiwi, WebMoney, YandexMoney
Available Locations

Netherlands; United Kingdom; Germany; Australia; Canada; France; Japan; Singapore; Bulgaria; Czech; Latvia; Netherlands; Poland; USA; Ukraine